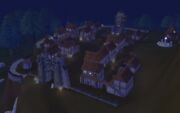 Birka is Alsius' second city, after the capital, Montsognir. It lies to the south of Montsognir, with the mountains of Withering Heights in between. It is connected to Montsognir's south entrance by a path leading through the Withering Heights, but this path is not marked on the map and is used mainly be higher level players due to the abundance of aggressive creatures. Lower level players can follow the main path leading out of Montsognir's main entrance and going through Kheled Valley and Kheled Slope.
See also
Ad blocker interference detected!
Wikia is a free-to-use site that makes money from advertising. We have a modified experience for viewers using ad blockers

Wikia is not accessible if you've made further modifications. Remove the custom ad blocker rule(s) and the page will load as expected.