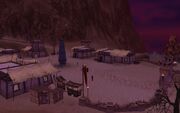 Nasraah Tej is a small village in Ignis' Initiation Zone. This is the first settlement that new players in Ignis will come across. Situated at the base of an old igneo fortress, the town is very quiet and acts as a resting point between the western port and Essadi Village. Many skeleton miners haunt the large mine nearby, seeking revenge for their mysterious deaths.
Quests
See also
Ad blocker interference detected!
Wikia is a free-to-use site that makes money from advertising. We have a modified experience for viewers using ad blockers

Wikia is not accessible if you've made further modifications. Remove the custom ad blocker rule(s) and the page will load as expected.